[one_full last="yes" spacing="yes" center_content="no" hide_on_mobile="no" background_color="" background_image="" background_repeat="no-repeat" background_position="left top" hover_type="none" link="" border_position="all" border_size="0px" border_color="" border_style="" padding="" margin_top="" margin_bottom="" animation_type="" animation_direction="" animation_speed="0.1″ animation_offset="" class="" id=""][fusion_text]A simple green salad is all that's needed with this colourful Italian-style open-faced omelette.[/fusion_text][/one_full]
[fusion_text]
½ lb (250 g) raw large shelled shrimp (31-40 count)
½ red onion, chopped
10 eggs
3 tbsp (45 mL) fresh mint, finely chopped
½ tsp (2 mL) each kosher salt and freshly ground black pepper
¼ tsp (1 mL) cayenne
3 tbsp (15 mL) olive oil
1 clove garlic, minced
4 cups (1 L) lightly packed baby arugula
3 oz (90 g) soft goat cheese, crumbled (optional)
2 or 3 cooked shell-on shrimp for garnish (optional)
[/fusion_text]
[imageframe lightbox="no" gallery_id="" lightbox_image="" style_type="none" hover_type="none" bordercolor="" bordersize="0px" borderradius="0″ stylecolor="" align="none" link="" linktarget="_self" animation_type="0″ animation_direction="down" animation_speed="0.1″ animation_offset="" hide_on_mobile="no" class="" id=""]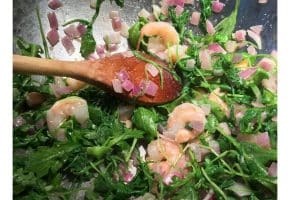 [/imageframe]
[one_full last="yes" spacing="yes" center_content="no" hide_on_mobile="no" background_color="" background_image="" background_repeat="no-repeat" background_position="left top" hover_type="none" link="" border_position="all" border_size="0px" border_color="" border_style="" padding="" margin_top="" margin_bottom="" animation_type="" animation_direction="" animation_speed="0.1″ animation_offset="" class="" id=""][fusion_text]1. Pre-heat the oven to 400°F.
2. In a medium bowl, beat together the eggs, mint, salt, pepper and cayenne. Set aside.
3. Heat oil over medium-high heat in a skillet. Add onion to the skillet and cook, stirring often, until softened, but not browned – about five to eight minutes.
4. Add garlic and shrimp and cook for one minute.
5. Reduce the heat to medium, then add the arugula and cook for a minute or two until it wilts and the shrimp turns pink.
6. Spread the arugula and shrimp mixture into a greased pie plate to make an even layer.
7. Carefully pour the egg mixture into the plate and spread the egg mixture evenly.
8. Cook 25-30 minutes.
9. Remove from heat, then scatter the goat cheese evenly over the frittata.
10. Turn the oven on to the broil setting and heat the frittata for two to three minutes until the cheese is melted.
11. Cut into wedges and serve.
Serves 6 to 8[/fusion_text][/one_full]